Shed
2021
Summer 2021 Solo Exhibition
Blue Star Contemporary
116 Blue Star • San Antonio • TX 78204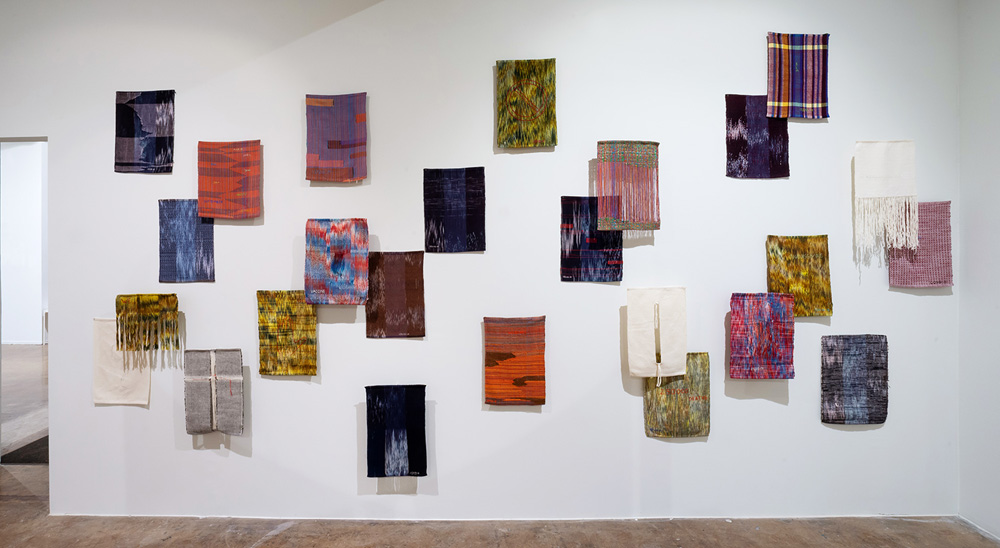 COVID Towels
2020-21
dimension of each piece vary around 18 x 13 inches
handdyed, handwoven with various fibers
In the first months of 2020, we were alerted to the Covid-19 virus which changed all our lives in various ways. Many countries, states and metropolitan areas ordered a partial shut down and stay at home order for non essential workers. We had to adjust to social distancing, mask wearing and hand sanitizing.
This intrigue me - all the hand towels which needed to be washed. I was born and raised inNorthern Germany on a small farm where women used to weave their dowery, part of those were towels. Their initials would be embroidered at the bottom in either blue or red. Each woman would weave unique designs in natural linen which turned white and soft during years of usage and washing. I inherited handwoven towels from both grandmothers, mother, an unmarried great aunt and some which people gifted me, seeing that I use them daily.
To keep the linage going, I promised myself to weave towels during the pandemic. Each piece has the same setup on the loom. I put a traditional white cotton/linen warp on my loom. The first towels were woven in traditional patterns, exploring colors and design. From there I proceeded to inlay designs and shifted to more exploratory weaving. It gave me time to think about COVID-19, how life had changed and I tried to reflect those changes into the towels. Afterwards I stitched and signed each one of them with COVID-19. Some messages were encouraging, some gave way to frustration and irony while others were replaced through symbols and lines.

By the time I had woven 45 pieces - there was only a signature but no more stitched messages. This was not intentionally but in resignation after 6 months of pandemic and social distancing. Instead, I started dissecting the weave structure and explored possibilities which reminded me of coping mechanism during COVID-19. We are going through stages, waiting, trying to live as normal as possible, worrying about money, denying what is happening, accepting the new way of life and trying to figure out how to move forward from where we are. Some days are easier then others. This became visible in my weaving - not all the warp is woven, there are open spaces, mismatched yarns and ends hanging out freely. The patterns have mistakes which are intentionally - a reflection of what we are experiencing.

It is a reminder to me how fragile and interconnected our world is. We are not the first generation to experience a pandemic. The "Spanish Flue" was here 100 years ago and the world recovered. And so will we.

Each towel is 18inches x 13inches; and some punctuate the group and highlight point in time, from referencing graphs of statistics, to seasons passing, to national political events. They are mementos of 2020 and our current time.